Rhythm in the Night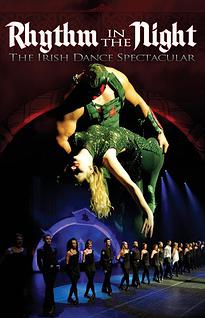 tale of good versus evil where deception reigns and temptation rivals the strongest of wills. The story unfolds during the dark ages when the land was ruled by the wicked seductress Azura, whose spell has trapped the legendary hero Balor under her control to command her legion of relentless henchmen. Unable to free himself, hope remains lost for all those in the kingdom…until now?


The tale of Rhythm in the Night is told through Irish dance with a world class troupe of male and female dancers. Adding to the drama and excitement of the production, Rhythm in the Night features an original soundtrack that delivers an orchestral atmosphere of epic proportions. The battle scenes transcend the struggle of dark versus light as lightning fast rhythms and a thunderous dance troupe display Irish dance like never seen before. Rhythm in the Night offers a grand, full scale 90-minute production. Rhythm in the Night will be a performance the entire family can enjoy, as it turns an age-old art form into the most exciting Irish dance spectacular ever to be experienced.

Rhythm in the Night is lead by dancer, Justin Boros. Justin is a professional Irish dancer who has toured the United States and Europe with Michael Flatley's Lord of the Dance. After his time in Lord of the Dance, Justin spent several years traveling with various European-based Irish dance productions throughout Ireland and Germany while developing Rhythm in the Night.